Cardmaking
I like to make of the greetings cards I give to people.
These are a few of the special ones I have made, together with notes about how they were made.
Clicking on an image will take you to the page about how I made that card.
This card has a stitched frame. Click on the image for more info a printable file of similar patterns for stitched frames.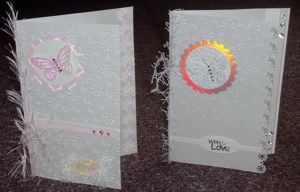 These two were made for a challenge on the DoCrafts website to make acard based on a song title.
I chose Procal Harem's 'A Whiter Shade of Pale' which was high in the charts when we get engaged way back in 1967
| | |
| --- | --- |
| Card with bobbin lace frame for 2009 Arachne Christmas card exchange. | Four-way 'everlasting' card given to my granddaughter Christmas 2009. |
Good luck cards made for Leah and Paige before their Dance School stage show.

The lilac and yellow version is glittered and has a ribbon trim. The pink version is decoupaged and peel-off trim coloured with permanent felt marker pens.

The image came from a magazine CD last year and was originally all yellow. I used Adobe Photoshop Elements and Apple Pages to change the colours. The pictures on the right show someof the other colour possibilities.
There are pictures of other cards I have made in my Gallery in the DoCrafts Website where my screen name is BeePee.

---