HomePage§Allhallows §Weddings §Lacemaking§ThreadsforLace§Painting&Drawing§FamilyHistory §Holidays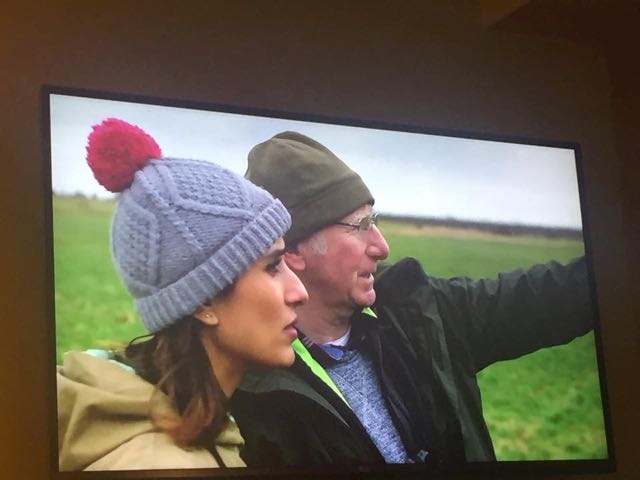 Terry's hobbies are birdwatching, wildlife and walking with the dog, but sadly Mack is now old and wobbly and can't walk far.

The photo above is a shot of the TV when BBC1 was broadcasting "Countryfile" on 19th March 2017.
He's talking to Anita Rani about the Herons at RSPB Northwood Hill .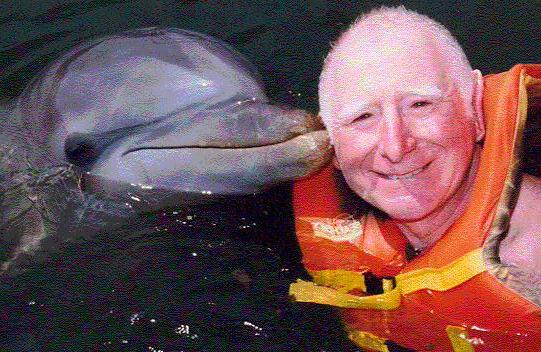 This is Terry swimming with a dolphin in Cuba.
For more pictures of our holiday in Cuba click here.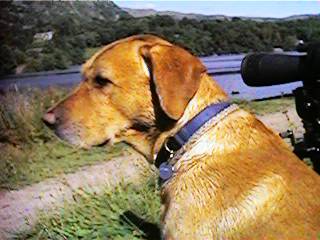 This is Sam, a Yellow Labrador.
Hard to believe sometimes, but he has several obedience champions in his pedigree.
Sam was born in 1994 so he's quite elderly now.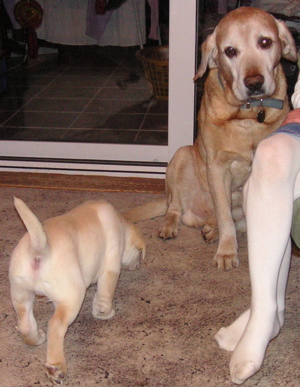 In February 2005 little Mack came to live with us. At first Sam wasn't too sure about him...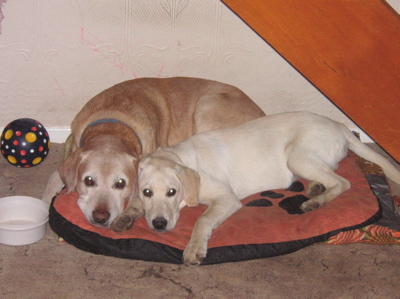 ...but soon they were good friends.

The puppy's name is spelled Mack because Mac is the computer and little Mac is the iBook.
He was born with a hip displasia, but hydrotherapy has greatly improved the condition. He's now fully grown and taller than Sam.

Age eventually took its toll on Sam; his back legs became very weak and he was barely able to walk.
Terry carried him into the vet's clinic for the last time on 29th August 2008.


90 second Quicktime movie of Mack's hydrotherapy

Bird photos from the Hoo Peninsula
Bird photos from further afield


Terry's Family History

Page last updated:

---
HomePage§Allhallows §Weddings §Lacemaking§ThreadsforLace§Painting&Drawing§FamilyHistory §Holidays


Terry Paternoster labrador, koi carp birds birdwatching