Four way Never-Ending Card
A double sided card, to give to my 13 year old grandaughter, which will fold over and over to reveal two fronts and two insides. Because the card rotates for the different sides to display all the decoration needs to be non-directional which efectively limits it to squares, circles, stars and snowflakes. I used a mix of Cuttlebug and Nestability diecuts, stamped images and lots of peel-off stickers.

As there really isn't anywhere to write on this card it will be accompanied by a matching gift-tag.
To make the base card you need four pieces of cardstock cut to 10cm x 20cm (4" x 8") and some double sided sticky tape. I used two pieces of green and two pieces of purple.
Score each piece of card twice, 5cm from each edge and flex each fold in both directions.
Place two pieces of card close together with the join horizontal. Keep them together with a couple of bits of low tack tape or Post-it strips
Place the other two pieces of card together with the join vertical and tape together temporarily.
Position double sided adhesive tape as shown making sure that all the DST is within 5cm of the edge.
Remove DST covering and position the vertical pair on top of the horizontal pair.
It will probabaly be necessary to trim a very small amount (about 1mm) from the sides of the card to neaten it and allow it to fold properly.
Now it's just a case of finding enough bits of flat decoration to decorate all the faces of the card.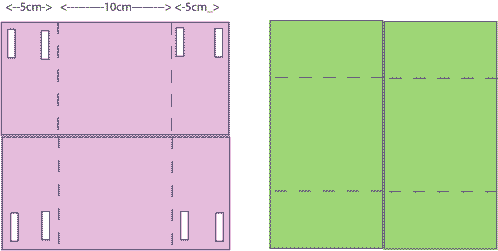 | | | | |
| --- | --- | --- | --- |
| | | | |
| Front A, as the card stands | Rotated to see inside front A | Front B, as the card stands | Rotated to see inside front B |
---
HomePage §Allhallows §Weddings §Lacemaking §Threads for Lace §Painting&Drawing §FamilyHistory §Terry'sPage §Holidays §Cards