Card for Arachne 2009 Christmas Exchange
Sent to Laura Sandiman in USA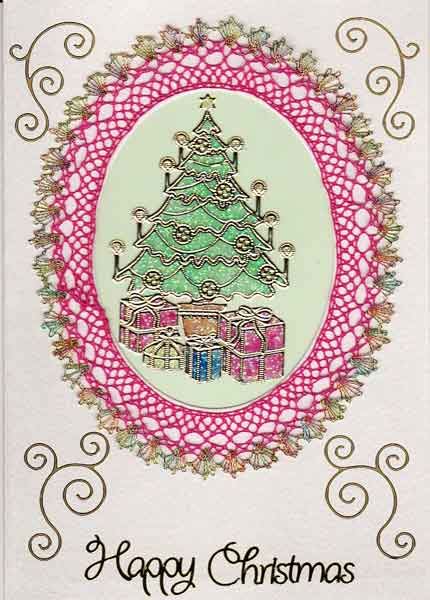 An A5 size card with oval aperture cut using the largest Spellbinders Nestability plain oval die.

Acetate stuck behind the aperture to make a window
Holographic peel-off tree sticker stuck onto the front of the acetate and coloured from behind using permanent felt-tip pens.
Lace edging stuck to the card with Pritt Stick on the pink ground area of the lace leaving the metallic fans free; this allows the fans to stand proud of the card.
A few bits of peel-off stickers added for embellishment.
The torchon lace edging was drawn using Adobe Illustrator.
I drew just two pattern repeats which I used to make a pattern brush tool.
Then I drew an oval shap with that pattern brush. It was a bit of trial and error to get the oval shape to match the oval aperture.
The pattern requires 11 pairs of bobbins; 9 pairs of Amann Sylko and two pairs of Madeira Metallic 40.
---