My Sewing Machines
My first experiences of using a sewing machine was helping my Dad to make a family size ridge tent using a black hand-crank Jones machine with long bobbins. I have no idea what happened to that machine but it coped well with heavy canvas, and I think he used linen thread (probably Barbours or Campbells) to sew a lot of long flat fell seams. I also remember watching him make the poles using his wood lathe; really sturdy and made in sections joined with metal ferrules. Each one was slightly different so they were all marked with numbers. That tent saw us through numerous holidays but I don't think I have a photo of it.
In my early teens I was given a blue hand-crank Singer machine. That was my machine and it was with that I really learned to sew. All I really remember of it was that it was blue and used round bobbins rather than the long shuttle spools of the Jones machine. I used for a good few years and made lots of things with it including my wedding dress of white velvet with a satin lining. Passed on to a family member I don't know what happened to it.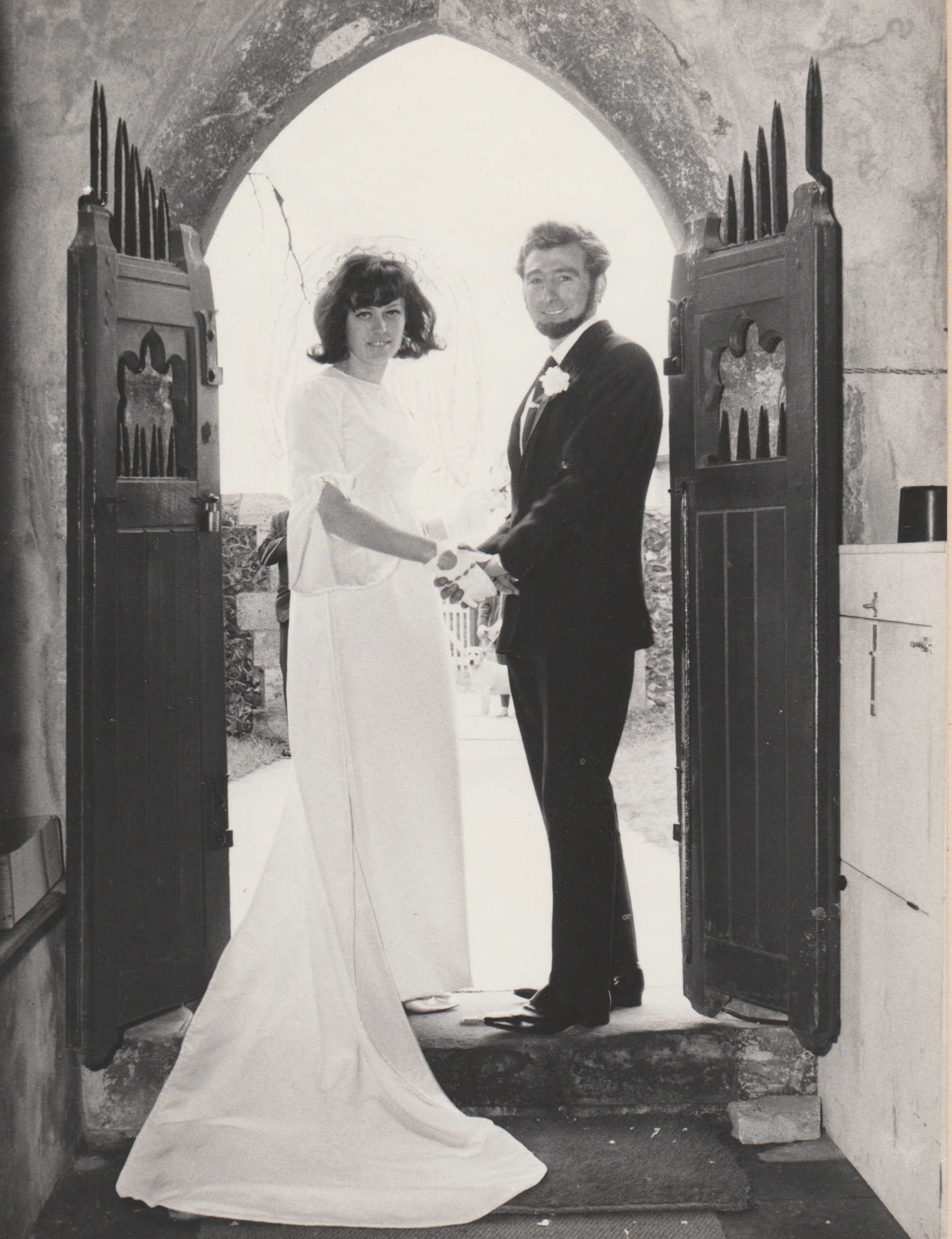 My next machine was a birthday present in 1973, then a near top of range Frister and Rossman which had a selection of drop-in cams to produce a variety of zig-zag and stretch stitches. I belive that machine is still in my daughter's loft as a back up should she ever be with without her Singer industrial machine. I gave it to her when I 'upgraded' to an electronic machine, a Husqvarna SewEasy 350 which dates from about 2000. I bought from a friend after her mother died. I also know her mother and that she was quite knowledgeable about sewing and would have had a good machine. This model was generally reckoned to be a good work horse and it has served me well. Named Vera after her first owner it is still in fairly regular use for the occasions when I need zig-zag and other utility stitches.
Recently though I have become aware of just how well the old mechanical machines perform and I now have three old Singer machines. They are all electic, not sure that I'd really want to use a hand crank again (unless a really ancient or ornate model should become available).

The first one I bought is also the oldest, a 1949 Singer 201-K3, named Caroline after her previous owner. The stitching is superb and she runs so freely. It was with Caroline though that I learned that the capacitors in the foot pedal of these old machine can fail allowing the machine to start running on its own if left plugged in. Fortunately I was only in the next room and got her unplugged very quickly and no real damage was done. Caroline is in good condition but her decals are worn on the front of the bed - not scratched, just a lot of usage.

A few months later an aluminium body Singer 20-K from 1953 was spotted on Ebay at a very good price and not far away. This one is in almost pristine condition and came with a good selection of feet and other accessories. I call her Azilia after the seller's screen name.

My third vintage machine is a Singer 221-K Featherweight dating from 1953. Again bought from a friend whose mother had died, but this one had lived unused in a cupboard for quite a few years. It was very dry and seized up after a short while and needed to go to the local mechanic, but once properly lubricated it's been sewing well although it's not as smooth as the 201s. She is is named Thirza as was my friend's mother.

The 201s have a rotary shuttle which I believe is why they run so smoothly, the Featherweight has an oscillating shuttle and sounds different, more like a clicking noise. It's a proper machine, not a toy, and is cute and portable but it's not my favourite. I keep Azilia upstairs with the more modern machines and I have Caroline on the desk/worktable in the study downstairs. It gets used for all the little sewing jobs. Thirza is currently in her box, but she might at some time be put out on display.
To complement the regular machines I have a Bernina 1150 4-thread overlocker which sews well and gets a lot of use. IMO an overlocker is a must if you want to sew modern stretchy fabrics. I also have an Elna 444 coverstitcher (identical to Janome CP1000) which is OK but a bit tempramental and prone to skipping stitches, especially if I try to use cheap thread in the needles.
Caroline and Azilia are my go-to machines for any regular sewing on woven fabrics unless I need one of the untility stitches and of course if I'm sewing stretch/jersey fabrics it's the overlocker which is also used for neatening seam allowances. For buttonholes I have a couple of old Singer buttonhole attachments, one with cams, one without. They both make very good buttonholes - much better than the Husqvarna's 4-step and IIRC better than the old Frister & Rossman which templates onto which which the regular presser foot sat.
| | | |
| --- | --- | --- |
| | | |
| Husqvarna SewEasy 350 "Vera" | Bernina 1150 overlocker | Elna 444 coverstitcher |
| | | |
| --- | --- | --- |
| | | |
| Singer 201K-3 "Caroline" | Singer 221K "Thirza" | Singer 201K "Azilia" |
Would I like a super-duper all singing, all dancing embroidery machine? Maybe if I win the lottery, but really I don't have any yearnings to have a machine which needs software updates and different patterns for each design, and there are only so many projects that could make use embroidery. A set of alphabet stitches for quilt labels would be nice, but that's all. At present I am content with the machines I own.
---