Richard (Dick) Munn and Helen Lovel

my great grandparents



Dick was born in October 1851 at "½ past 10 pm", twin to Henry, at Botney Cottages Milton, sons of Richard and Elizabeth Munn. They were baptized at Milton just six days later. Helen was born at Denton in December 1851, daughter of Thomas and Fanny Lovel.

Dick started as a general shopkeeper but after his marriage to Helen at Milton in November 1873 he became a cow-keeper and eventually took over the 'Invicta' Dairy at 11-12 Elliot Street, Milton from his father-in-law.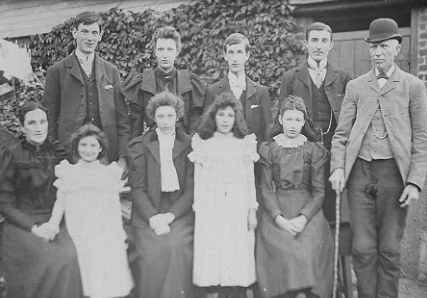 Dick and Helen with their family, c 1900.

Back row: Frank, Nel, Alfred, Richard, Dick

Front row: Helen, Gertrude, Winifred, Fanny, Annie.



Dick and Helen lived at 5 Elliott Street, then Norfolk Road Milton, and ended their days at 60 Milton Road, which was purchased by their eldest daughter, Nel, who worked as a dressmaker.

Helen died in January 1926 and Dick in April 1926. They are buried in Gravesend cemetary.

Children of Dick and Helen:
Richard Adam (Rich) 1875-

. . . . . . . . . . .

mar descendants
Francis Ernest (Frank) 1777-

. . . . . . . . . .

mar, no children
Alfred George (Alf) 1879-1960

. . . . . . . .

unmarried
Helen Elizabeth Fearall (Nel) 1881-1921 unmarried
Winifred May (Win) 1883-1919

. . . . . . . .

unmarried
Annie Jane 1885-1961

. . . . . . . . . . . . . . .

unmarried
Fanny Ethel 1887-1979

. . . . . . . . . . . . . .

mar Ken Bowles
Gertrude Mary (Gert) 1891-

. . . . . . . . . . .

unmarried
Page last updated:

---