Christmas Tablecloth
This started when I found a strip of Christmas designs in my stash. I don't remember buying them but possiby I was thinking about using them for cardmaking.. They are black and white overprinted with gold. Here I have added gold printed fabric borders to make the squares 5" x 5". The plan was to incorporate them into a big tablecloth. I chose black white and gold to echo the little pictures plus a lot of reds to make it more Christmassy.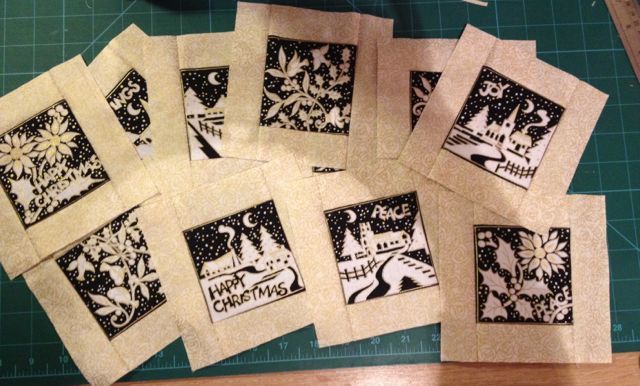 One Christmas print incorporated into a churn-dash block, and a star block to match. The sub-blocks all measure 5" x 5", so a full block is 15" x 15" finished.

There are about a dozen different reds, about a dozen dark black/white prints about a dozen light, white or white with black, and at least eight golds, mostly over printed with metallic gold.

For any eagle eyes out there - the star block used for the close up has one of the sub-blocks the wrong way around, but fortunately I did manage to spot it just in time. Easily dealt with when it's just patchwork, but once the quilting is done......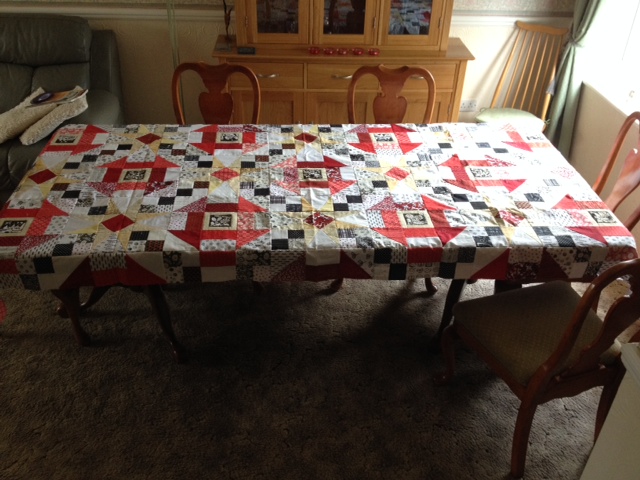 This is the tablecloth top. It is big enough to easily cover my dining table when fully extended, so doesn't need any additional borders.
The whole thing is nominally 115" x 55" so I will probably just quilt it and add a red binding.
---