William Fairall and Mary Smith
my 5 x gt grandparents
William Fairall, by far my most notorious ancester, was baptized at Goudhurst in March 1722/3, son of Roger and Mary Fairall, but when he was just seven years old he and his younger brother John were orphaned. Roger was buried in May 1730; Mary having died just six months earlier.
Mary was the daughter of Thomas Smith and Frances Foreman.
William andWilliam and Mary were married at Horsmonden in January 1743/4.
For nearly three years after William was orphaned the Goudhurst overseers paid Widow Cackett 12 shillings per four weeks for keeping the boys. This amount was halved from March 1733 when the churchwardens and overseers came to an agreemant with John Larking a husbandman of Cranbrook to have one of Fairall's boys in service for two years. This had to have been William as his brother was still only seven years old. Assuming that William completed the two years service he would have done general farm work and maybe cared for sheep; his later nick-name was the Shepherd. The two years employment was to have earned him twenty shillings, but also settled status in Cranbrook.
The next reference to William was his marriage to Mary Smith at Horsmonden in January 1743/4 and the baptisms of two children there, John in January 1745/6 and Frances in May 1747. There are also references in the Horsmonden parish chest about an 'examination' of William Fairall in September 1745, but there is no record of what the examination was about nor of its outcome but it seems likely that it could have been to establish his ability to support himself and family and thus obtain settlement in Horsmonden, thus absolving Cranbrook or Goudhurst of any responsibility towards him.
However, William did not just settle to agricultural labour; he became a leading member of the Hawkhurst Gang of smugglers.
At some time c1747 William is said to have been apprehended for smuggling in Sussex and taken before James Butler Esq who ordered him to be taken to London for trial. That required an overnight stop at an inn in the Borough, (no secure police cells then) but he managed to escape his guards, stole a horse from the stand outside the inn and made his way home. Subsequently William and another gang member, Thomas Kingsmill, are said to have plotted to kill Butler but their plans were thwarted when Butler changed his plans and failed to return to his home when expected.
In September 1747 the gang had purchased a quantity of (duty free) tea in Guernsey but the cutter Three Brothers was intercepted by customs officials and the cargo of tea was taken to the Custom-house at Poole (Hampshire). In October 1747 members of the Hawhurst Gang together with smugglers from Hampshire broke into the Custom-house and took away the tea that they considered to be their property.
In January 1748/9 seven leading members of the gang were tried, convicted and executed for the horific murders in February 1747/8 of William Galley, a customs official, and Daniel Chater a shoemaker. There is no mention of William Fairall in the Old Bailey Proceedings for the murder trial.
William Fairall and four others were subsequently arrested for the Poole episode and tried at The Old Bailey on 4th April 1749 for Housebreaking. Three of them were found guilty and sentenced to death. William and the new gang leader, Thomas Kingsmill to be hung in chains afterwards. Harsh sentences for Housebreaking, even by 18th century standards. There was no mention of the Gally and Chater murders during the trial. William was hanged at Tyburn on Wednesday 26 April 1749 and his body taken back to Horsmonden Heath to be gibbetted.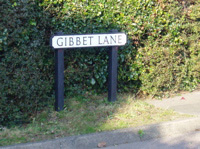 The 'memorial' to William Fairall in Horsmonden, close to the village green where he hung in chains.
Much of the story about the Hawkhurst Gang and the murders of Gally and Chater come from Sussex Smugglers written by "A Gentleman of Chichester" first published in 1749, credited by many, but without a stated source, to have been the Duke of Richmond who had earlier signed an arrest warrent for William.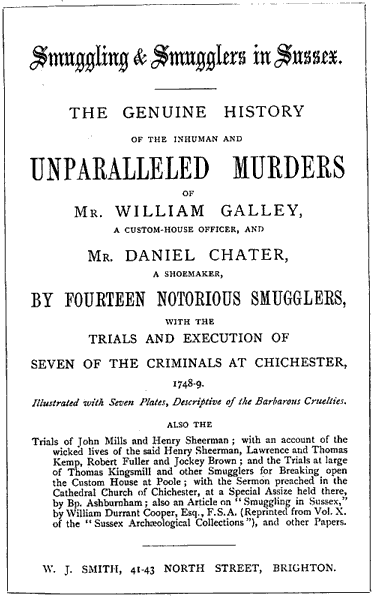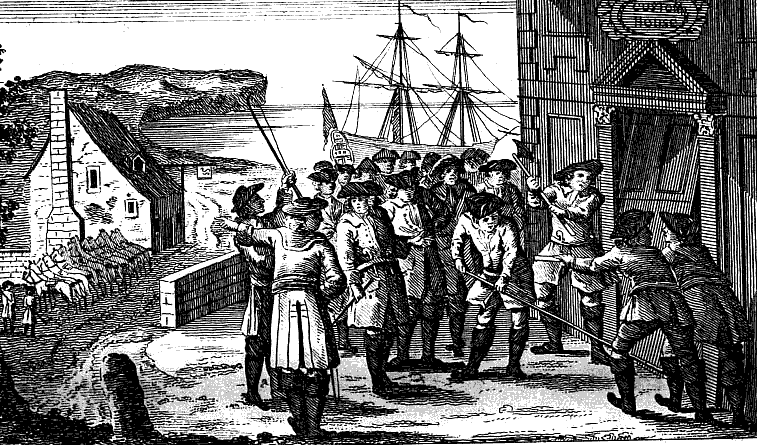 This illustration from Sussex Smugglers shows the gang breaking into the Poole Custom-house.
The figure in the foreground directing the affair would appear to be William Fairall; one of the witnesses (a smuggler turned King's Evidence) stated that all the men were armed and that Fairall had a 'hanger', ie a sword and this figure is the only one wearing a sword from his waist.
Many of the 'facts' printed in the Ordinary's Account of the behaviour, confession, & dying words of the prisoners who were executed at Tyburn on 26th of April 1749 were in fact opinions. William was said to be
aged 25, was born at Horsendown-Green in the County of Kent, bred to no Business, yet I could learn, inured to Smuggling from his Infancy,
He was in fact 26 and born in Goudhurst. If he was 'inured to smuggling from his infancy' then it were the Goudhurst parish officials and Widow Cackett, or his first master, John Larking who himself became an overseer in Cranbrook, who were responsible.
Yes, William's story is tragic; the result of a boy growing up without parental guidance and consequently associating with the wrong sort of people. His younger brother John fared little better. In August 1747 he was tried and convicted at Rochester for 'an assult in the Highway with intent to rob' and sentenced to seven years transportation. He sailed for Virginia in February 1747/8.
And what of William's widow and the two young children?
The last known reference to Mary Fairall in the Horsmonden area was September 1750 when the overseers there paid her 8d "for hoping". However Mary had already moved on, and presumably this was payment for "casual labour" rather than poor relief as Mary was married John EVENS on 21 July 1850 at St George's Chapel, Albemarle Street, Westminster; a clandestine marriage, irregular but perfectly legal. Her abode then was Ightham parish and John's was Kempsing parish. In January 1750/51 Robert EVANS, son of John and Mary was Christened in Kemsing, the same parish where Mary's daughter Frances was married twenty years later. Mary was buried at Kemsing on 25 April 1779.
Children of William FAIRALL and Mary:
John bap 26 January 1744/45 Horsmonden
Frances bap 27 October 1747 Horsmonden


Children of Mary and John EVANS:
Robert bap 13 January 1750/51 Kemsing

In October 2015 I was awarded second prize in Kent Family History Society's Alan Neame Award for my article
"The Wickedest Smuggler Living or a victim of 18th Century Circimstances" which was published in the June 2016 KFHS Journal.
My prize money went towards an autosomal DNA test.
Subsequent research into Mary Fairall's fate and her family was published in the September 2018 Journal as The Smuggler's Widow
Page last updated:

---