John was born to John and Jane Munn in June 1781 at Darenth and baptized there three weeks later.
Sophia, daughter of John and Elizabeth Cuphis, was baptized in February 1785 at Southfleet.

They were married at Longfield in October 1805 and lived in the Longfield /Horton Kirby area for a number of years and raised their family there. In 1829 their abode was 'Pinden' which is right on the boundary between the two parishes. In 1841 they were both servants living at Longfield Court and by 1851 they had moved to Swanscombe cutting where they were lodging with a John Hewitt (carpenter/joiner) and his family.

Sophia died in November 1853, and in 1861 John was living with their daughter Jane and her husband George Harper a victualler of the Blue Anchor in Swanscombe. John died in May 1863 (Q2 Dartford RD). John and Sophia are buried in Swanscombe churchyard.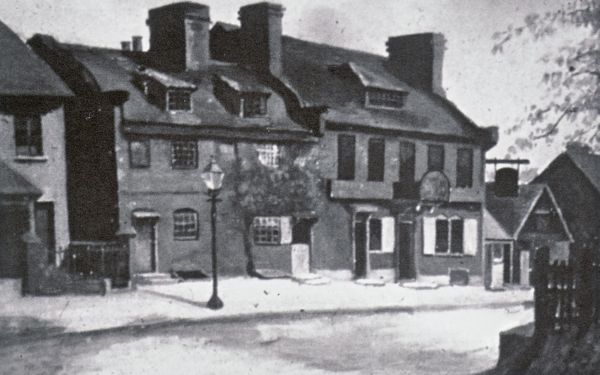 The Blue Anchor Pub (c1905) in Swanscombe where John was living in 1861.
The pub, which was rebuilt in 1965 then demolished in 2013 to make way for houses, stood on Swanscombe High Street, now Swanscombe Street, between Eglington Road and Church Road. More info at http://www.dover-kent.com/2014-project-a/Blue-Anchor-Swanscombe.html althought the first photo on that page is the mirrored image of this one, and is shown correctly in 'Swanscombe in Old Photographs' by Christoph Bull.

The name 'Blue Anchor' is said to have originated in a ancient legend about an anchor and chain just appearing from the sky and a sailor dressed in blue drowning whilst trying to free that anchor. However, I wonder if the name of this pub was taken from the inn of the same name in Somerset, between Minehead and Watchet. George Harper, landlord in 1861 was born East Harptree (near Bath) in Somerset.
Known children of John and Sophia:

John bap 22 Dec 1805 Southfleet
William born c1806 Southfleet, mar Ann Conford 1844 Dartford RD, 1861 in Swanscomb next door but one to 'Blue Anchor' 1871 widower with widowed sister Elizabeth, died 1885
*Anthony born c1811Horton died1881 (unmarried). 1861 & 1871 with sister Mary Ann
MaryAnn bap 12 Feb 1815 Horton Kirby mar William Conford died 1871
Sarah bap 25 Jan 1818 Longfield
Jane bap 14 May 1820 Longfield -1870 mar George Harper 1856 St Mary's Paddington. In 1861 at 'Blue Anchor' pub in Swanscombe
Henry bap 15 June 1823 Horton Kirby. mar Eliza. Greengrocer in Camberwell in 1861
Elizabeth bap 05 Feb 1826 Horton Kirby mar John Hayes Q1 1848 Dartford RD. died 1916
Ann bap 20 Dec 1829 Longfield mar James Gough an engineer from Northfleet 26 May1855 at Swanscombe. In 1861 she too was living at Blue Anchor in Swanscombe, "husband gone abroad"
* There is a baptism at Sutton-at-Hone for Anthony son of (John &) Sophia Cuphis on 11 April 1811. Maybe the vicar/clerk knew Sophia but not her married name.



Page last updated:




---