James Holdaway and Susan(nah) Wiggins

my 3 x gt grandparents



James was baptized at Southfleet in February 1791, youngest son of William and Elizabeth Holdaway. He became a Market Gardener.
Susan/Susannah/Sukey was born c1793.

They were married at Wilmington in February 1813 when they were both described as 'of this parish' and subsequently settled at Southfleet where they had a large family baptized, although in 1833 their abode was Stone. By 1841 they had moved to Gravesend and Milton.

In 1841 James, Susanna and their younger children were enumerated in the Styles Farm area of the (then) southern outskirts of Gravesend, at 'Cemetery'; the same address given by their son John when he married in 1846. The only building shown on old maps of the area which could fit this address is the lodge incorporated into the cemetery gates. Maybe James, as a gardener, was employed to look after the cemetery grounds; although there was also a large nursery just across the road.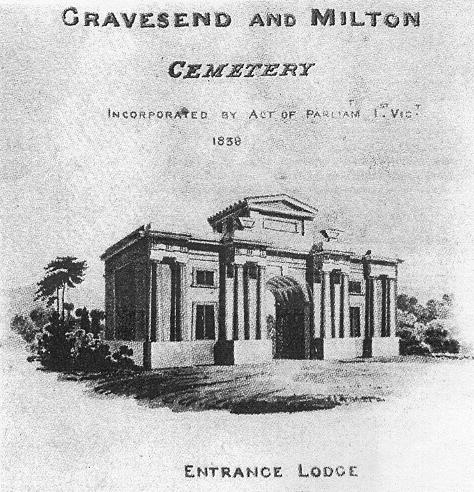 The architect's drawing of 1838 for the cemetery gates which were built in 1840.
Although fairly recently restored the exterior of the building remains very similar.

In 1851 they were living at 5 Albion Terrace, Milton; James was a Beer House Keeper. In 1961 they were living at 66 Peppercroft Street, Milton. Sukey died at19 Peppercroft Street, Milton in 1865. In 1871Jameswas living at East Milton with son John. He died 21 May 1871.
James and Sukey are both buried at SS Peter & Paul, Milton.

Children of James and Susan, all baptized at Southfleet:
Elizabeth bap 01 May 1814-
Sarah Ann bap 16 March 1817- Mar John Collett
John bap February 27 Feb 1820- Mar Caroline Jarrett, Descendants including Keith & Daphne Johnson
Charlotte bap 10 June 1821, buried 10 Feb 1822 Southfleet
Thomas bap 01 September 1822-
James bap 14 March 1824-
Mary Ann bap 22 November 1826-bur 27 Nov 1827 aged 16 months
Henry bap 30 November 1830-
William bap 26April 1831 and May 1831-
Mary bap 30 June 1833-
Page last updated:

---