Frank Morgan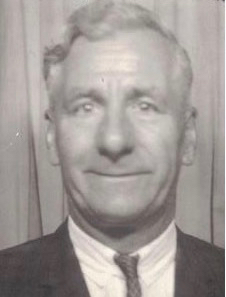 Frank was born in Quebec City, Canada on 9th July 1914 to Edward Morgan and Edith Nora Haynes. He came to England as a baby with his mother and grew up in Birkenhead, England with his grandmother Blanche and three older half brothers. He returned to Canada with them in 1928, and would have spent his 14th birthday aboard SS 'Antonia' travelling from Liverpool to Ontario.
His first marriage was to Carrie Bowman in 1937 in Kingston, Ontario. They had one son George and then separated and were divorced in 1942. Then he was in England during 1943, had a liaison with Jean Paternoster and Terry was born August 1944. Frank's second marriage was to Kathleen Rowlands in December qtr 1945 in Birkenhead and they had three sons.
One of Frank's grandsons has described him as "very intelligent, outspoken & of strong opinion, stubborn, kind & pretty decent enough kinda guy but definitely a little quirky/cool & distant/different." whilst his mother (George's wife) puts more emphasis on "odd/wierd/quirky" and that "he was always very to himself, very secretive, almost a little paranoid/defensive like he was always trying to hide things." The grandson also said "I'm not sure if that was just his personality or a combination of his own childhood/adulthood life experiences, the historical time period & of course the war…. In hindsight it's clear that there were things that he'd obviously never dealt with, things that he was in fact hiding."
That all makes sense in the light of the reseach that I have done. Frank himself came from a complex and broken family, torn apart by WW1 and until I got involved it seems that the current Morgan family in Canada knew nothing about Frank's older half brothers, and descendants of them knew nothing about the Morgans! Then history repeated itself; Frank lost contact with his eldest son George until George himself made contact after his own first son was born, and I'm told that Frank's second wife knew nothing until she opened the letter from George! So almost certainly she knew nothing about Terry either.
Page last updated:
---