Threads for Lace Edition 6
Sold Out
Due to several large orders in quick succession my stocks of the book have been exhasted a bit sooner than anticipated.
Most of the traders who stock it will still have supplies. I expect to be working on Edition 7 in the New Year.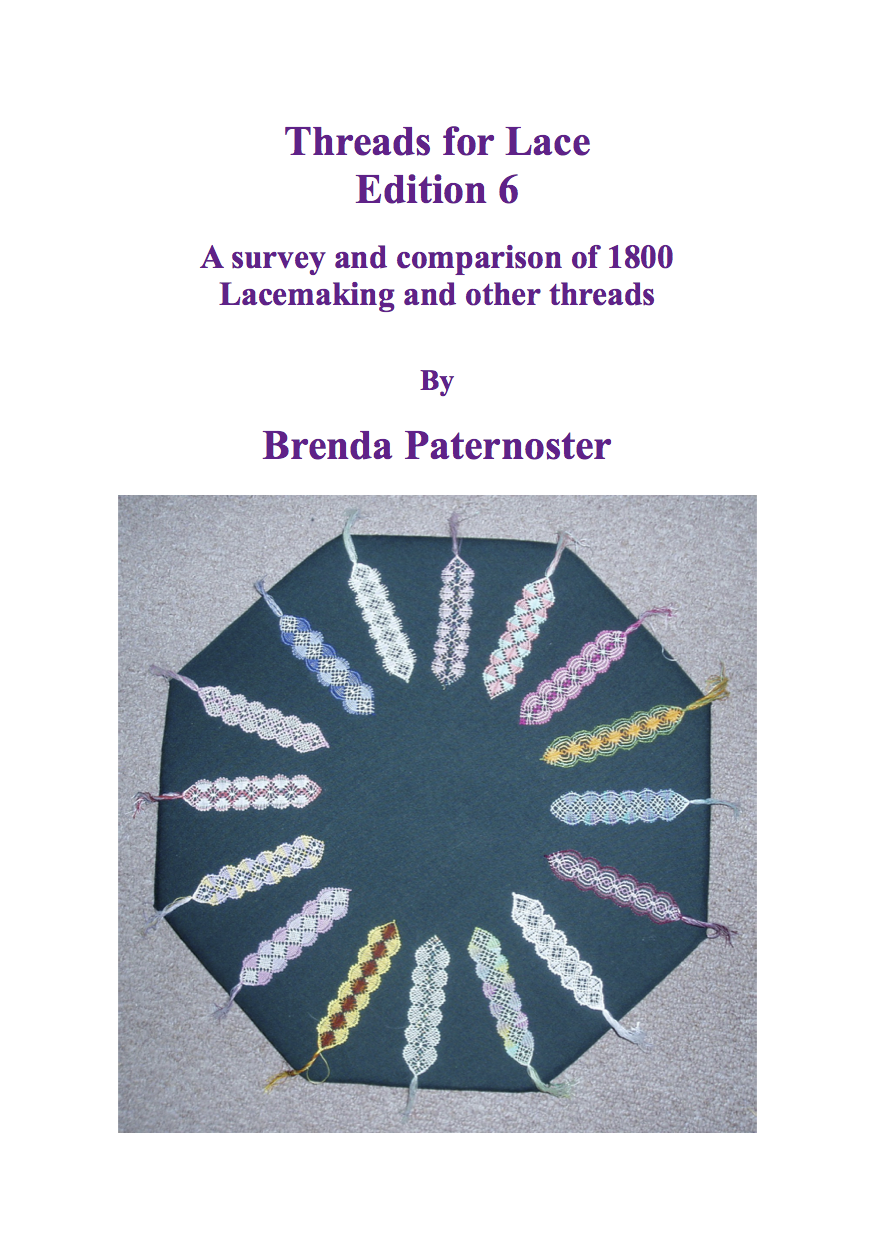 This is a comprehensive survey of as many different threads as I have been able to obtain.
The threads are listed in groups under fibre type and then alphabetically by manufacturer.
This is followed by comparisons of thread thicknesses based on wraps/cm.

Edition 6 includes all the threads featured in Edition 5 plus all of those from Addendum 5,
a total of more than 1,800 threads.
RRP in UK is £10.75
Price for single copy, including postage is - £12.50 (UK only)
For single copies to other countries I recommend purchasing from one of the
UK traders who will accept the plastic of your choice.
Orders to:
Brenda Paternoster
46 St Davids Road
Allhallows, Rochester
Kent. ME3 9PW
England UK
Please include your email address with order, I will acknowledge receipt/despatch.

The price for six or more copies is £7.50 each plus postage.
40 or more copies, £7.25 each plus postage.
The weight of each book is about 260gms, plus packaging.
The 2Kg limit for small parcels means that books will normally be sent in multiples of 7

Post and Packing for up to 7 books to UK: 1st class £5-45, 2nd class £2-80. .
Post & Packing to Europe: 5 books £12-00, 6 books £13-00, 7 books £14-00

Post and Packing to Zone 1 (USA, Canada etc)
Airmail: 5 books £18-00, 6 books £20-00, 7 books £22-00
Surface: books £12-00, 6 books £13-50, 7 books £15-00

Post and Packing to Zone 2 (Australia NZ)
Airmail: 5 books £20-00, 6 books £22-50, 7 books £25-00
Surface: books £13-00, 6 books £14-50, 7 books £16-00


I use Royal Mail for posting books.
The other commitments in my life mean that I am unable to schedule a whole day for collection of a parcel
which is what all the courier 'services' seem to expect.
However if you have an account with Hermes I will take parcels to the local pick-up point. Please contact me.
Other couriers by arrangement, and only if they will collect during the morning.
For UK customers GBP cheque or electronic transfer preferred.
For bank account numbers please contact me

I am aware that international bank transfers can be very expensive.
I am pleased to say that I am now able to accept payment by PayPal. Please ask me for an electronic PayPal invoice


For currency conversion rates see XE.com Personal Currency Assistant
UK stockist include:
Jo Firth - Visa, Mastercard, Switch, PayPal
Makit - Visa, Mastercard
Presencia UK (Biggins) - Visa, Amex, PayPal, Mastercard, Switch
Roseground - Visa, Mastercard, PayPal, Amex
SMP Lace - Visa, Mastercard, Amex
Church Meadow Crafts - MasterCard, Visa, Switch, Solo

Non-UK stockists:
Barbara Fay Germany Giro transfer, Visa, Mastercard, JCB
Heikina de Ruijter (Hanke Hofstra) Netherlands
Lacy Susan (Trudy Scholten) CO - USA - Visa, Mastercard, Discover
Holly van Sciver, NY- USA Visa, Mastercard, Discover
Unique Expressions (Susan T Groh) MO - USA
Josco Lace Supplies (Joanne Scowcroft) NSW Australia Visa, Mastercard, PayPal



I am still maintaining the Addendum lists.
Addenda 1, 2, 3, 4 and 5 are complete. Addendum 6 is ongoing.

If you have Edition 1 (600 threads) you need all five Addendum lists.
If you have Edition 2 (800 threads) you need Addendum 2, Addendum 3, Addendum 4 and Addendum 5.
If you have Edition 3 (1100 threads) you need Addendum3, Addendum 4 and Addendum 5
If you have Edition 4 (1350 threads) you need Addendum 4 and Addendum 5
If you have Edition 5 (1425 threads) you need Addendum 5and Addendum 6
If you have Edition 6 only Addendum 6 is needed
View Addendum List 4

View Addendum List 5
If you have any thread which is not included in the book or the Addendum lists
I would be delighted to recieve a small sample - a metre or so is plenty.

For information about current threads and manufacturers click here

Page last updated:

---
cotton linen silk threads lace addendum