Wedding Present for Rob and Lynne
Made during the summer of 2017. The design is "Sisters" from Judy Martin's book "Extraordinary Log Cabin Quilts".
It is quilted all over with random free motion squiggles, but because of the size I decided to do quilt as you go, but I definitely didn't want sashing between the blocks and so I used the method where the blocks are joined into strips, the first strip sandwiched with strips of wadding and backing and quilted to within a couple of inches of the edge and then the second strip joined to the first strip and another strip of backing joined to the backing strip and a length of wadding placed between the new top strip and new backing strip and quilted, taking the quilting back and forth across the join.
For this method of QAYG it is necessary to cut the wadding accurately, and it needs a lot of safety ons to hold it in place before the quilting is done, but once completed there is nothing on the top to show that it has been quilted in sections.
The main blocks before assembly and two of the border strips. The blocks were 10" x 10" and the border blocks were 11" wide so I decided to make the strips for the QAYG quilting two blocks wide, ie 20" (or 21" for the edge strips which included border blocks.
Once the whole thing was made and spread over a bed I realised that it wasn't really long enough, and so I cut out a few more strips and made two pillow shams to match. I worked on it nearly every day for a couple of weeks to get it all done in time for the wedding. I think it was appreciated, and we had a lovely time at the wedding.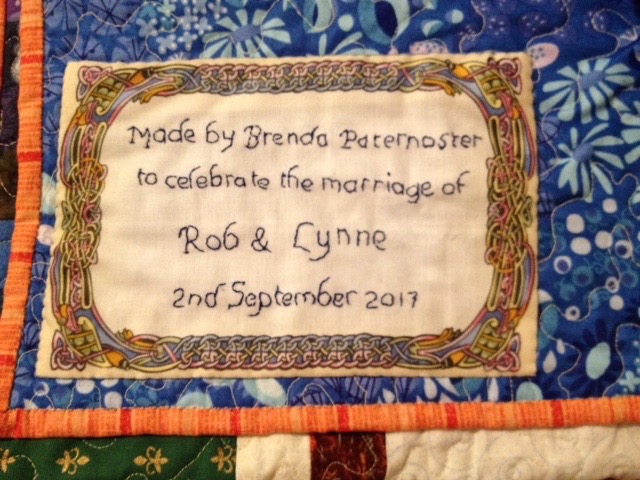 ---