Vasarely inspired Quilt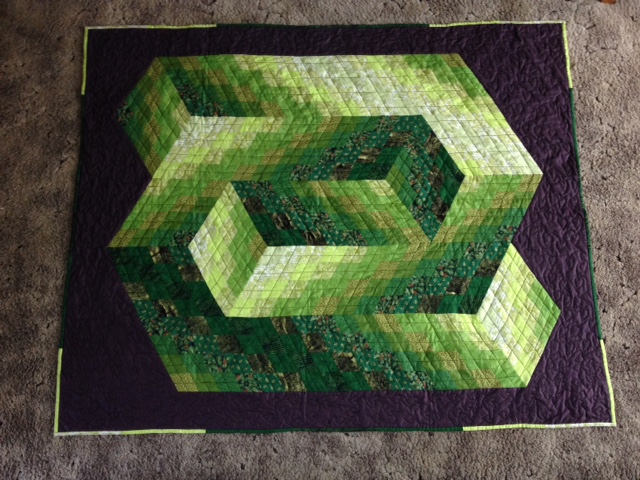 The inspiration for this quilt came from Izzo-22 by Victor Vasarely, one of the originators of the Op-Art.
There are lots of colour variations of this design around, the one I worked from uses 15 tints and shades of red,
but I chose to use greens, mostly small prints and 'blender' fabrics.
Changing a photo of the fabrics to black and white helped me to arrange the fabrics from light to dark.
Close analysis of the design shows that it is constructed from 60°x120° lozenges arranged in blocks of 4x4. Ideal for patchwork!

I used a print-out of the design, numbered each patch according to the colour, and then labelled each set of patches as they were cut.
Then it was just a case of putting together the 4x4 patch blocks taking care to assemble each one in the correct order, and then getting the blocks
assembled, again in the correct order and correct orientation.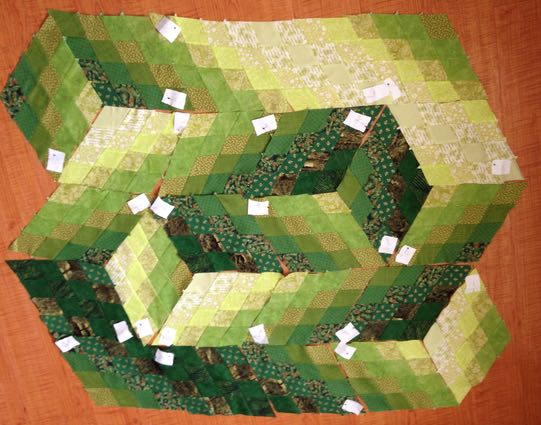 Blocks arranged in the correct order.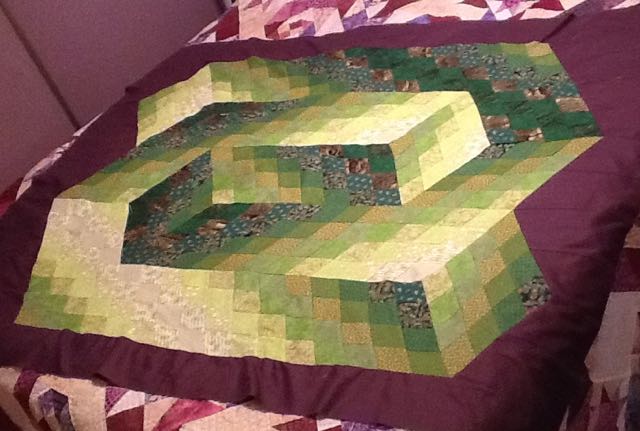 I chose a dark brownish purple for the border to contrast with the greens. The border is made with parallel strips rather than the more usual frame of strips parallel to each side.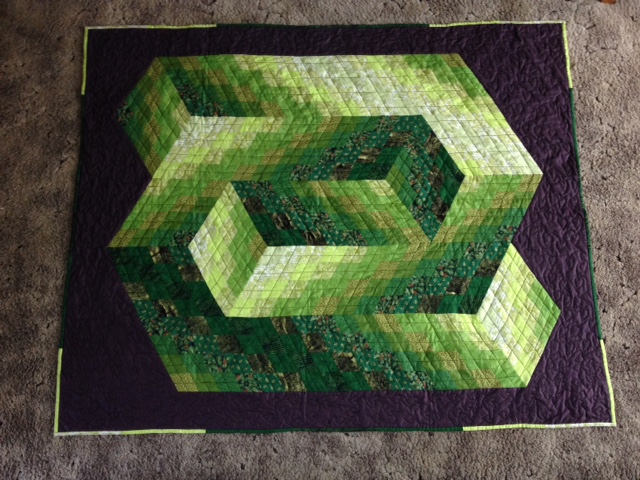 The sandwich was put together and I quilted straight lines across all the patches in both directions and then a bit of free motion quilting over the border.
I added a narrow pieced border made from some of the green fabrics, and finally a label.
Victor Vasarely 1906-1997is often regarded as the leader of the Op-Art movement. He wanted to make his visual inventions accessible to all.
"The end of personal art for a sophisticated elite is near, we are heading straight towards a global civilization, governed by Sciences and Techniques.
We must integrate visual sensibility (sensibilité plastique) into a correct world…"
The internet and electronic media has made images of Vasarely's work available to all.
I hope he would have been pleased to see it interpreted in textile form.
---