Lace Guild Convention 2007
at Reading 10th-12th April
As ever a very enjoyable weekend catching up with lace friends from far and wide.
This year I was fortunate in getting places on three workshops,
and in the Sunday morning one I found myself sitting next to a former student who I hadn't seen for about 20 years.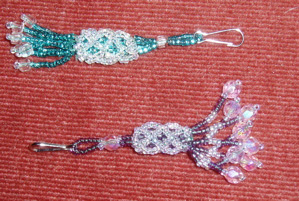 On Friday afternoon I made beaded tassels with Sue Dane - one each for the older grand daughters.
On Saturday morning I played with Jane Atkinson's toys and used wooden shapes similar to those I played with many years ago,
to design a torchon pattern. When the pattern is completed I will post it here.


Click on the image for a larger view.
On Sunday morning I looked at lace from the Guild's collection with Gwynedd Roberts and saw this piece of "Arachne" lace.
Actually it's Pannomia lace from Hungary, which is crocheted braids with needle fillings and lots of spider webs.
See page 41 of 'Lace 125, January 2007.