Lace Guild Convention 2006 at St Aidan's College, Durham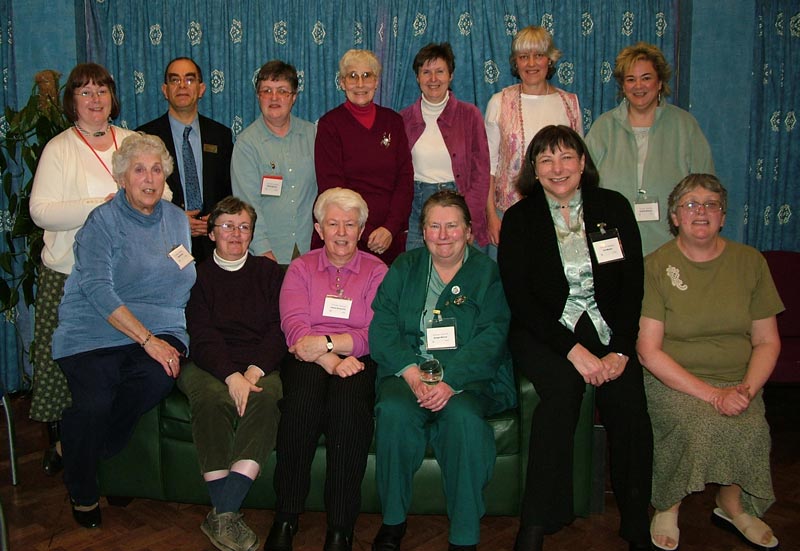 These are the Arachnes who were present during the Friday evening "Lace-in"
Back row - left to right

Amanda Richards

Leonard Bazar

Milada Marshall

Malvary Cole

Jacqui Tinch

Brenda Paternoster

Heather Moloney

Nottinghamshire

London

Somerset

Ottawa, Canada

Lincolnshire

Medway, Kent

North Hertfordshire
Front row - left to right

Sheila Brown

Angela Steinhousen

Dianne Derbyshire

Bridget Marrow

Eve Morton

Anne Drew

Sawbo' Hertfordshire

Hampshire

Lancashire

Hertfordshire

London

North Hertfordshire
Tangram Competition

This year the convention competition was lace tangrams.

The first prize was won by Arachne Eve Morton for her entry "Septimus". Well done Eve.
Convention Workshops

This is my sampler from the "Beads and Bobbin Lace" workshop with Jan Tregidgo on Friday afternoon - showing several different ways of attaching beads to bobbin lace.
This is my twisty which I made during Adrienne Thunder's "Twist and Turn" workshop on Sunday morning. We used plastic covered telephone wire as outer passives with a variety of different threads.

I made mine into a brooch which I wore for the rest of the day.